My two best friends and I traveled to Colombia for 10 days in October, and it was one of my favorite trips I've ever had. I had been to Europe several times, but this was my first time to South America. I was blown away by the culture, the people, and most importantly the food. The country is definitely working to recover from a bad reputation of crime, corruption and drugs based on the events from their past. As is the case when traveling to a new place/country anywhere in the world, you must be cautious and have safety in mind when out and about. However, as three women, we felt completely safe in the country and had no "close calls" or anything that made us feel nervous or uncomfortable. I traveled to Bogotá, Medellín, and Cartagena and have included some must eats and dos for each below. If you are going to Colombia and want some more tips or have questions – do not hesitate to reach out using a form on my website or via Instagram direct message.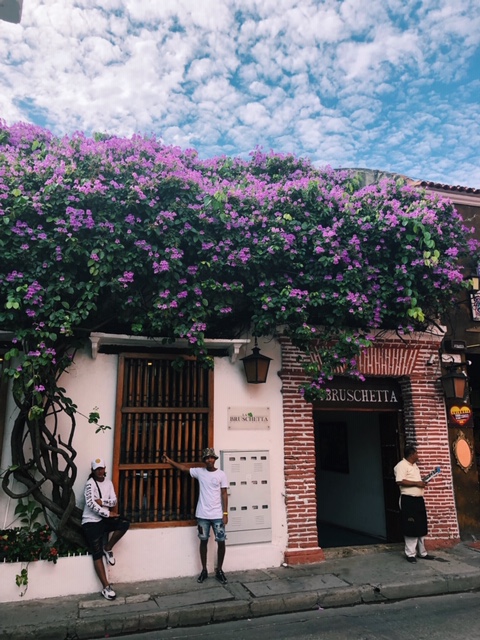 Here are the places I recommend in this guide:
Bogotá
Abasto
Andres Carne De Res
Black Bear
Bourbon Coffee Roasters
JW Marriott Bogotá
Monserrate
Usaquen Park
Zona G
Medellín
El Cielo
El Peñol
Guatapé
Medellín Metrocable
Pergamino
Real City Tours Free Walking Tour
Cartagena
Café Del Mar
Carmen
Cartagena Connections Street Food Tour
Casa Lola
Rosario Islands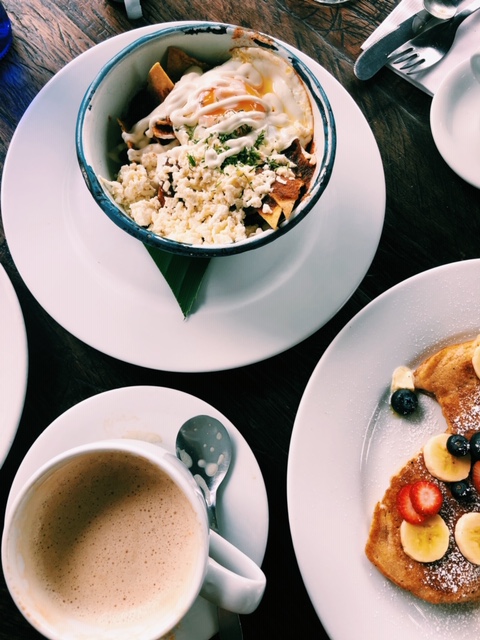 Bogotá
Bogotá is the capital of Colombia and is the country's largest city. If you are traveling for around 10 days, I recommend spending max 2 nights/3 days here, as we found there was much more to do in the other cities. That being said, the city has several pockets of great shops, markets, and restaurants. We took the cable car to the top of the mountain Monserrate and saw beautiful sites. I would recommend relaxing for a beer at the top to overlook the city and take in the view. It's important to remember that Colombia has high altitude, especially in Bogotá. I got a little altitude sickness, so make sure to drink lots of water or "Te de Coca" which helps alleviate the sickness. Usaquen Park is a foodie heaven neighborhood, with lots of ethnic food, cute cafes, and cocktail bars. We went to Abasto for brunch and were delighted by the charm and delicious Colombian food. Zona G is another fun neighborhood with trendy restaurants and shops. Bourbon Coffee Roasters is a great spot for a Colombian coffee. Although I've been warned it's touristy, we loved Andres Carne de Res. This was the most unique place ever – it's multi-level and part restaurant/part dance club. We ate dinner at Black Bear, a gorgeous restaurant with craft cocktails, string lights, and plants everywhere. I recommend staying in or near Zona G; we stayed at the JW Marriott Bogotá. It was one of the nicest Marriotts at which I've ever stayed – for about 1/3 of the price you'd expect!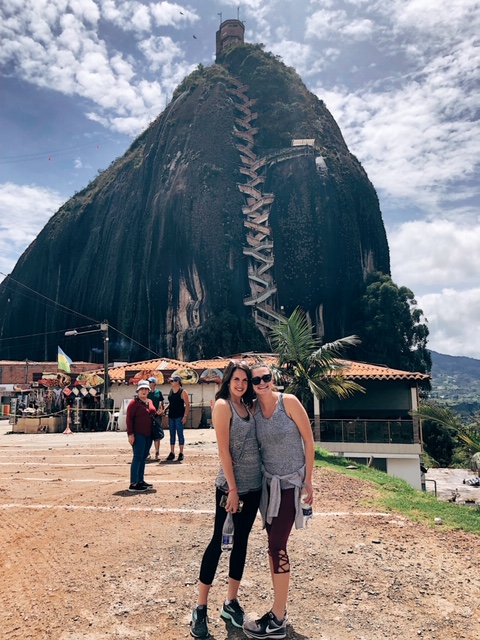 Medellín
The best thing we did in Medellín was the Real City Tours Free Walking Tour. Free and extremely informative, this ~3 hour tour taught us more than we ever could imagine about Medellín and Colombia. I'd recommend doing the tour on your first day so you can note neighborhoods/areas you'd like to explore later. We took the Medellín Metrocable, which is a public transport system for locals, and a tourist attraction for visitors.  These cable cars were built to help bridge a gap between the poorer areas of town (up in the mountains) and the center of the city. Take the cars up to Avri Park, it's worth the views. I also highly, highly recommend a day trip to Guatapé, a resort town about an hour bus ride from Medellín. There's plenty of information online for this, but I recommend doing it on your own (buying bus tickets, climbing El Peñol yourself, etc.) El Peñol is a massive structure and climbing it (all 740 steps of it) was exhausting but very worth it. The top led to some of the most amazing views I've ever seen. Grab lunch in the town of Guatapé when you're done. Back to Medellín. We went to Pergamino, a trendy coffee shop with specialty coffee drinks. For dinner, we went to Michelin Star restaurant, El Cielo. Our dinner here was an incredible experience, with multiple courses, wines, and lots of surprises along the way. I don't want to tell you too much about it because part of the fun is experiencing it without expectations. However, I can promise you you'll pay 5x the price for a dinner like this in the States, and I'd argue I liked it even more than I liked Alinea's Kitchen Table experience in Chicago.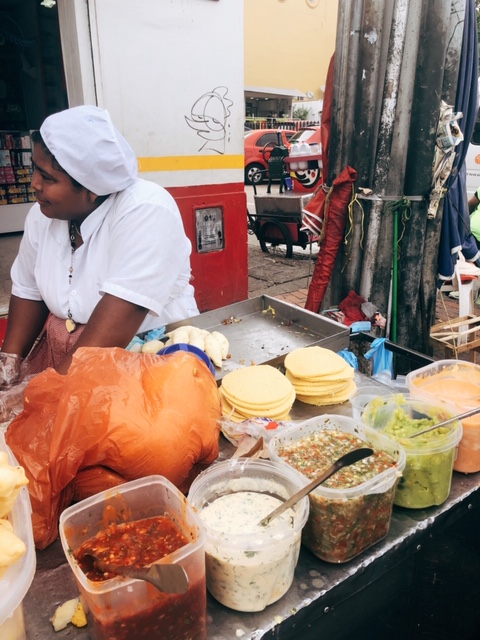 Cartagena
My favorite city we visited was Cartagena. Cartagena is a beach town on the coast of Colombia, and it has a very different vibe than Bogotá and Medellín. It was HOT (almost 90 degrees Fahrenheit most days) and extremely humid, so be prepared for that. Colombia in general doesn't have seasons with changing temperatures, it's either rainy season or dry season. We went during rainy season, and it only rained for about an hour one day of our whole trip. Cartagena is best experienced by just wondering around. Look at the gorgeous, vibrant buildings, take in the people and the vibrant culture, and eat the street food. Speaking of street food, we took the Cartagena Connections street food tour and I highly recommend it. It's two hours, and the tour price includes all the food and drink you'll get on the tour. My favorite thing we ate was the corn arepas with cheese. These were less than $1US and they changed my life. The people in Cartagena also love their sauces. At almost every street food stand, you'll find a variety of salsas, aiolis, or guacamoles. One night for dinner we went to highly rated restaurant Carmen. I liked El Cielo in Medellín better, but the food was just as unique and delicious. Once again, you are getting a 5-star dining experience for the fifth of the price of what you'd pay to get it in the States. We did the tasting menu, but you can also order A La Carte from the menu. For sunset drinks, go to Café Del Mar. It overlooks the ocean and the skyline (which is really just condos, not office buildings) and is perfect at sunset. Our last day, the three of us did a day trip to Rosario Islands. We paid $50US for a boat ride to and from the island (about an hour), a private cabana with welcome drinks, and lunch on the island provided by the locals. It's worth noting that the boat ride itself was not luxurious, but the island was beautiful and peaceful. Lastly, I highly recommend staying at Casa Lola, a gorgeous B&B/hotel type place with incredible interior design, a rooftop pool, and yummy food (get the arepa with egg in the morning.