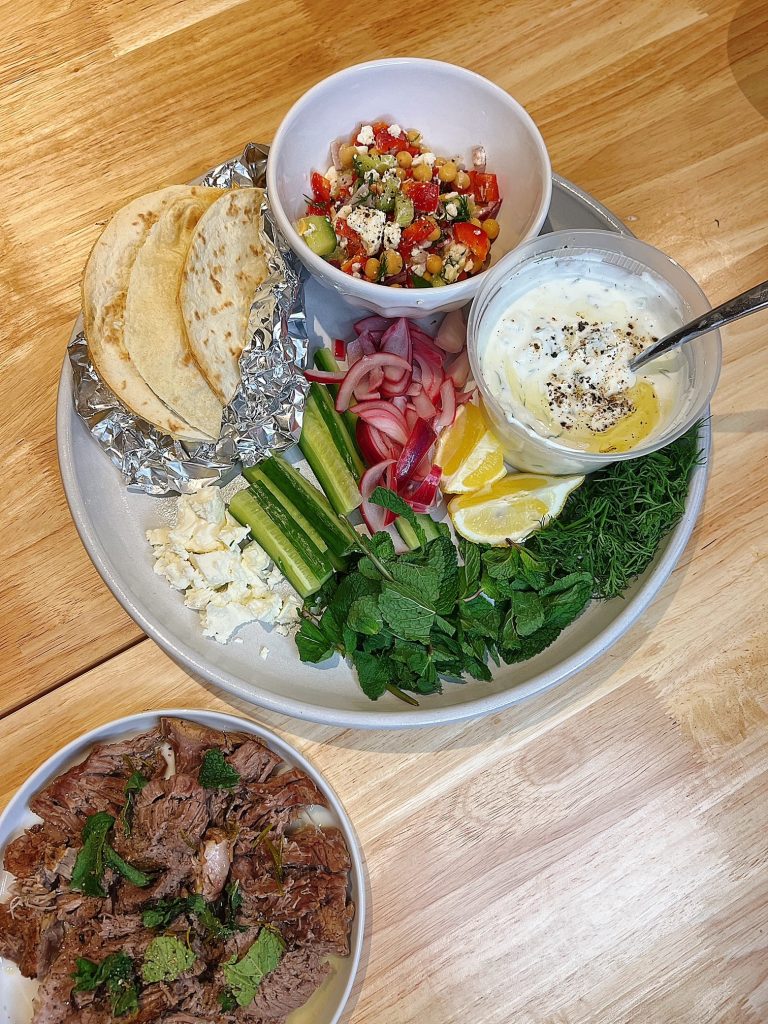 Build Your Own Lamb Tacos
Ingredients
For the Lamb
1

leg of lamb, bone in (about 2 pounds)

2

tbsp

nuetral oil (veggie or canola)

1

white or yellow onion

1/2

clove

garlic

1

red chili or jalapeno

2

sprigs rosemary or thyme

4

cups beef or veggie broth

salt and pepper
For the Tzatziki
1

cup

Greek yogurt

1/2

cucumber diced small

1

lemon wedge

1

tbsp

chopped dill

dash of garlic salt

salt and pepper
For the Chickpea Salad
1

can

chickpeas, drained and rinsed

1

English cucumber, chopped

1

red pepper, chopped

1/2

cup

feta, crumbled

1

tbsp

olive oil

1/2

lemon (plus more for serving)

1/2

cup

chopped dill
For the Pickled Red Onion
1/2

red onion

1/2 cup

vinegar (white wine, apple cider)
For the Taco Bar Assembly
chickpea salad (ingredients above)

pickled onion (ingredients above)

shredded, braised lamb (ingredients above)

mini flour and corn tortillas

chopped mint

chopped dill

sliced cucumber sticks

lemon wedges
Instructions
Generously salt the lamb leg across all sides. Let sit in the fridge for 30 minutes or up to 24 hours 

When ready to make the lamb, add 2 tablespoons neutral oil to a Dutch oven or large pot over medium-high heat (you will need a top to the pot). Quarter the onion and add to the hot pan. Add the lamb and sear on all sides, about 8-10 mins each 

Keeping the lamb in the pot, add half garlic clove (you can keep the peel of the garlic on), chili pepper sliced in half (seeds in or out depending on spice preference), and rosemary sprigs. Add more salt and pepper to the pan. Let cook for about 5-10 mins 

Add broth to the pot. You want the lamb to be mostly covered, it's okay if a little of the meat is poking out. Add water if more liquid is needed 

Bring to a simmer, and then turn down heat to low. Cover and let braise for 2-2.5 hours. Do not lift the lid often, but when you do, check to see if the meat is tender (should pull apart semi-easily with a fork) 

While the meat is braising, make the accompaniments. Start with the tzatziki. Mix all ingredients together in a bowl and let sit

To make the pickled onions, slice red onion in thin pieces. Place in a bowl and cover with vinegar and a little table salt. Let sit at room temperature for about 1 hour. When done and ready to serve, drain and rinse with cold water. These will last in a sealed container in your fridge for up to 3 weeks

Make the chickpea salad by mixing drained and rinsed chickpeas, chopped red pepper, chopped cucumber, dill, and feta in a medium bowl. Top with olive oil, lemon squeeze, and salt and pepper. Let sit - it tastes better as the flavors marinate! 

To prep the taco bar, lay out chickpea salad, tzatziki, pickled onions, warmed tortillas, extra dill and mint, extra feta, cucumber sticks, and lemon wedges 

Once the lamb is done, put on a cutting board and shred using a fork and knife. Let guests build their own tacos and enjoy!